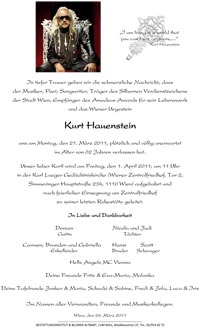 Parte Kurt Hauenstein
(klick für größere Abbildung)

Best Of Supermax - A Living Legend looks back


A retrospective of the Supermax-catalogue consisting of re-recordings, re-edits, remixes and previously unreleased material is due to release this via Universal Music on CD+DVD and Deluxe-Edition 2CD+DVD.

A survey as well as a homage to an individualistic, influential and visionary artist whose career spans more than three decades.

Supermax to most people is Kurt Hauenstein, multiinstrumentalist and musical visionary - an artist of Austrian origin, whose chameleonic work has reached international cult-status, although the versatility of his creations often left people astounded, but also enchanted, he achieved a legendary status and is one of the most successful Austrian artists since the late 1970ies. His Über-hit "Love Machine" from 1978 took the world in storm, but this is only the tip of the iceberg. Kurt Hauenstein has to this day released 15 albums, most of them being enthusiastically received by critics and audience all over the world alike. Supermax's complex and characteristic groove-science has always been a somehow demanding, but in the end rewarding issue for the dedicated listener. But his complexity always had chart-appeal: with his former label he got the title of "Worldwide Best Selling Artist" for more than just one time. With the new anthology there's something for everyone - from radically reworking to respectful editing. But let's hear it from the man himself:

"What ever happens in life and what it may bring,
don't ever loose your dreams and your fantasy..."
Kurt Hauenstein.